The paddle modified for Ken
Ken asked me to modify a paddle for Him. He wanted a paddle that had His name cut out of it so when He used it on a well warmed butt, He'd see His name on her flesh. It took me a while to decide how to do it exactly. I put leather on the other side of the paddle to allow Him to use the paddle all the time and not just for marking. It also would allow for warm up and marking without switching paddles, just flipping it over.

Picture of the paddle before putting on the leather. You can see where someone else attempted to place His name on it but started out on the wrong end.

Here is the finished paddle leather side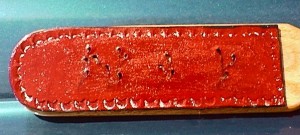 On closer looking you can see the holes I put in the leather to allow for air flow, to facilitate better marking. I tooled around the edge to make it a little fancier.

This picture is the side used for marking, hence it looks backwards.